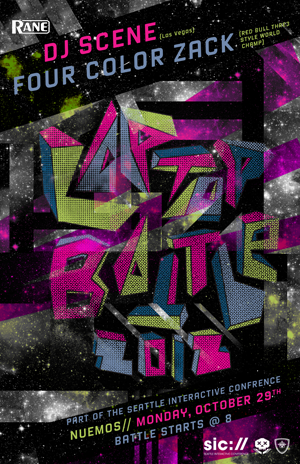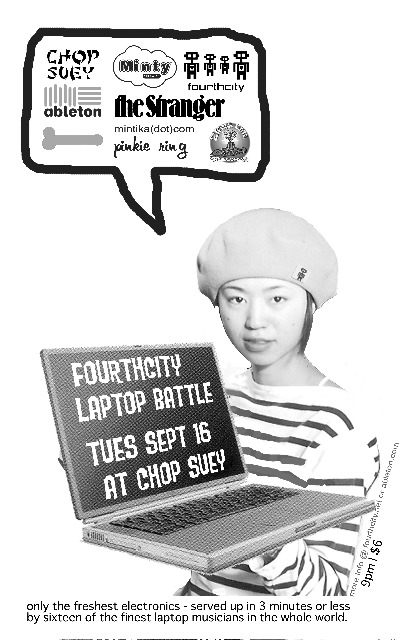 BATTLES:


2010

SEATTLE'S 8TH ANNUAL WORLD FAMOUS LAPTOP BATTLE AT CHOP SUEY SATURDAY DECEMBER 11TH

LB has spread across the globe! Please check your local Laptop Battle chapter for local event info:
ATLANTA LAPTOP BATTLE
AUSTIN LAPTOP BATTLE
BROOKLYN LAPTOP BATTLE
LAPTOP DEATH MATCH
MANNHEIM LAPTOP BATTLE
MIAMI LAPTOP BATTLE
MID-ATLANTIC LAPTOP BATTLE
MUNICH LAPTOP BATTLE
NAPLES LAPTOP BATTLE
NEW ZEALAND LAPTOP BATTLE
PHILADELPHIA LAPTOP BATTLE
STUTTGART LAPTOP BATTLE
TOKYO LAPTOP BATTLE
UK LAPTOP BATTLE

OCT 2008

Seattle's own homegrown phenomenon is back and in full effect!

LAPTOP BATTLE OCTOBER 10TH AT NECTAR 412 N. 36th St., Seattle WA 98103

BUY TICKETS NOW

Calling all electronic enthusiasts!

The Laptop Battle has made it around the world, and now has made it back to its original stomping grounds. The NW Laptop Battle will be held at Nectar, on October 10, 2008. The showcase will star the baddest talent from Vancity to the PDX. Past NW contestants include Kris Moon, Claude Balzac, Zapan, KJ Sawka, Jacob London, Buck Nasty III, Studley Buffkins, Syzygy and Kinoko. Through the thick of wires, laptops and gadgets, each player will have 3 minutes to showcase the stuff they're made of to wow the judges and to get booties movin'. Each contestant will face nail biting elimination rounds, and eventually a winner will be crowned.

Laptop Battle started back in 2003, Zach Huntting and Kris Moon from the Fourthcity collective created an original concept to bringing people and music together. You don't have to be an established musician, nor have high-end equipment to join; people use what means they have and create what they love. A wide variety of musical sounds are welcomed. The concept has caught on and has spread from Seattle to Germany, Miami, Tokyo, New York, Italy, Philadelphia, Dallas, San Francisco, New Zealand, the UK and beyond.

The rules are simple:

1. Gear specifications:
i. Contestants can use up to one (1) midi controller & one (1) soundcard.
ii. All gear must fit in a 2' x 2' square.

2. Battles are chosen randomly.

3. Battles are 3 minutes long. Contestants can choose whether they want a 30 second warning issued by the MC. At 3 minutes the MC will fade out the contestant's output.

4. Judges (5) decide the outcome of battles in a single elimination style.

5. Contestants must be at the location of the battle half an hour before the battle for reasons below.
a. minimum amount of set-up time.
b. alternates will be onsite to take the place of contestants who fail to show up on time.

Judges:

* Dave Pezzner – Jacob London, Last Year's Champion
* Colin Johnson – Nectar Lounge, Mercir, Righteous Trash
* James Grindle – Necodo.com, EarConscious
* ER Don – Buy the new album out on Fourthcity!
* Josh Wright – Light in The Attic Records

MC:

* Alejandro Gutierrez – Artifakt, Fourthcity

Visuals

* Scott Sunn - Tracer

Contestants:
* Tron Sister
* WD4D
* Jeffery Mode
* Trona
* Orbiculus
* Squid Leader
* Andrew Luck
* Xben
* Incite
* Joel Pryde
* HeavyLight
* KFO website
* Mat Anderson
* John Lowe
* Ffej
* Nth808
* Syzygy
* Claude Balzac
* and surprise battler!!

Sponsors:
* Ableton
* Native Instruments
* M-Audio
* Mackie
* Necodo.com
* Sonic Charge
* Puremagnetik
* FabFilter
* Fourthcity
* D16
* Audio Damage
* Electricbaby
* Soy
* Poster Midget
* Oseao
* laptopbattle.org
* laptopbattle.com

MAR 2008

Laptop Battle Italy:



New Zealand Laptop Battle:



Recruiting NOW for the Seattle Laptop Battle. Party rockers, nerds, and Donald Trump wanabees: holla at the ORG!

DEC 2007

Check it out: LAPTOP BATTLE NEW ZEALAND!!!

Laptop Battles keep spreading around the globe, and it all started right here in Seattle with the Fourthcity Art Crew! Respect to the crews halding down Laptop Battle in their areas: ATLANTA, AUSTIN, DALLAS, MANNHEIM, MUNICH, PHILADELPHIA/NEW YORK, SAN FRANCISCO, STUTTGART, TOKYO, + UNITED KINGDOM. Stay tuned for worldwide moves! Word on the street is that Italy is gonna be next! LaptopBattle.org, from 2003 to infitity.

CONTESTANTS: SIGN UP HERE!!

NOV 2007

> 11/10/07: San Francisco Laptop Battle #2!!! Sponsored by Daly City Records. At 111 Minna Gallery SF, CA. Judging by Robotspeak, Richard Devine, Lowprolounge, Glitchmob, Daly City Rex, Patrice Scanlon, Drum Machine Museum, Fourthcity & more.. Details at Daly City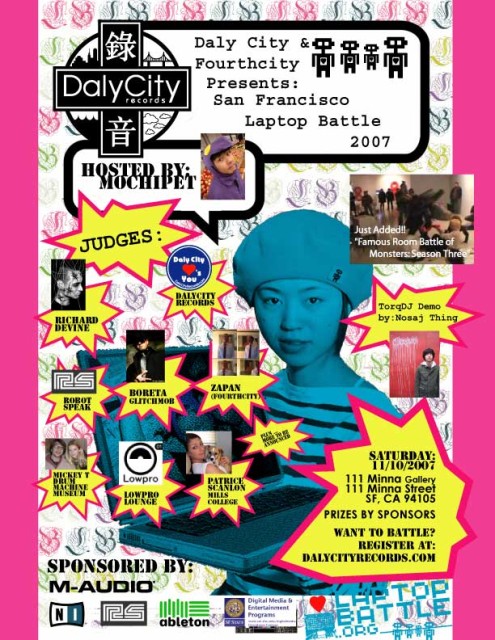 SEPT 2007

>LAPTOP BATTLE TOKYO #1
9/12 (水) 19:00/20:00 at Super Deluxe (前売り)
1000円 adv. 1500円 door. More info at Tokyo Laptop Battle Site..



APR-JULY 2007

>4/27/07: TEEN IDOL LAPTOP BATTLE SURVIVOR, EPISODE ONE!! at Deep Down Lounge/Temple Billiards, 126 S. Jackson -- Seattle, WA 98104

LaptopBattle.ORG & Fourthcity proudly announce our new TV series:!!!!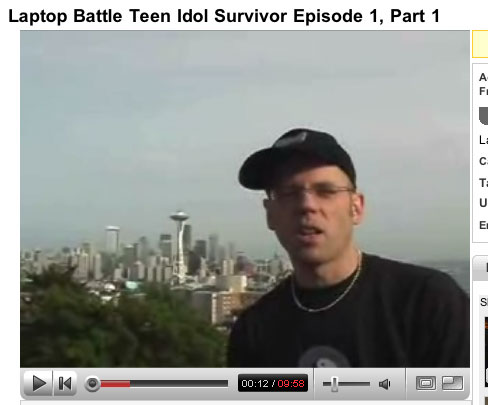 LAPTOP BATTLE AMERICAN IDOL TEEN SURVIVOR
LAPTOP BATTLE AMERICAN IDOL TEEN SURVIVOR
LAPTOP BATTLE AMERICAN IDOL TEEN SURVIVOR
LAPTOP BATTLE AMERICAN IDOL TEEN SURVIVOR
episode one

FRIDAY APRIL 27TH at the very birthplace of the Laptop Battle phenomenon!!
Contestants will be playing one extended set each using samples provided by LB.org. This is the first in a series of 4 shows.
Everything will be televised, so please come pimped out accordingly.. You will be a part of the show!
The Deepdown is a small venue &

THIS EVENT WILL SELL OUT

. Reserve your tickets now at BrownPaperTickets.com (individual show price is $6 or season ticket for all 4 shows is $20). $8dos.

TRY OUT SOME OF THE SOUNDS WE'RE GIVING TO THE CONTESTANTS YOURSELF:




MAR 2007

>3/10/07: AUSTIN LAPTOP BATTLE at The Mohawk, 912 Red River -- Austin, TX

>3/8/07: PHILADELPHIA LAPTOP BATTLE 7 at Northstar Bar, 2639 Poplar St -- Philadelphia, PA

DEC 2006

>12/7/06: LAPTOP BATTLE NATIONAL CHAMPIONSHIPS at Chop Suey -- Seattle, USA

Winner: VYTEAR from Philadelphia!!

Read a review of the battle here
And some photos here
And view the official chart here!

2006 Laptop Battle National Championship
Thursday, December 7th, 2006

Chop Suey
1325 E Madison
Doors at 9pm $8

Presale Tickets:Brown Paper Tickets

Laptop Battle is proud to present the Third Annual Laptop Battle National Championships, featuring competitors from Seattle, Dallas, Philadelphia, Atlanta, Miami, Austin, Chicago & New York City. This will be a double elimination tournament, meaning everyone gets a second chance to become the new National Champion. Dj Collage on the mic and Scratchmaster Joe on the decks, with showcase sets by Starkey, 2005 Laptop Battle Champion & Vincent Parker, the Bit Rocker! Come out to cheer on your favorite, it's going to be a wicked night of laptop performances.

Competitors:
Seattle :Squid Leader
Chicago :Protman
Austin :Matthewmatics
Miami :Doormouse
Dallas :Cygnus
New York City :Velapene Sceen
Atlanta : Threv
Philly : Vytear

Showcase Sets:
Starkey
Vincent Parker

MC: Dj Collage
DJ: Scratchmaster Joe

Visuals:
Killing Frenzy
Tracer

Judges:
Starkey - 2005 Laptop Battle Champion/Philly
Vincent Parker - Bit Rocker/Vancouver BC
31Avas - Kulturezene/Portland
Matt Carthum - Hakea/Seattle
Rian Pierson - B.O.M.N/Seattle

Sponsors:
Ableton
Audio Damage
Brushed Golden
Drumcore
Fab Filter
Fourthcity
Little People Postering Company
M-Audio
Mackie
Native Instruments
Oseao
Sonic Charge
Soy Clothing
LaptopBattle.org

NOV 2006

>11/30/06: BRISTOL LAPTOP BATTLE ROUND 2 at TBA -- Bristol, UK

OCT 2006

>10/20/06: PHILADELPHIA LAPTOP BATTLE at TBA -- Philadelphia, PA

>10/14/06: ATLANTA LAPTOP BATTLE at Lenny's -- Atlanta, GA

SEPT 2006

>9/30/06: NEW YORK CITY LAPTOP BATTLE at Galapagos-- Brooklyn, NY

>9/23/06: MANNHEIM, GERMANY'S FIRST LAPTOP BATTLE at Lagerhaus -- Mannheim, GERMANY

>9/24/06: DALLAS LAPTOP BATTLE at DoubleWide -- Dallas, TX

JUNE 2006

>6/10/06 SAT: SEATTLE/PORTLAND LAPTOP BATTLE at Chop Suey -- 1325 E Madison Seattle WA

>6/03/06 SAT: MIAMI LAPTOP BATTLE at Churchill's Pub -- 5501 NE 2nd Ave. Miami FL

MARCH 2006

>3/25/06 SAT: INTEL NYC LAPTOP BATTLE SHOWCASE: New York, NY at Fredrick P. Rose Hall at The Time Warner Center at Lincoln Center.. Free to the public. Special LaptopBattle showcase event sponsored by INTEL as well as our other sponsors..

>3/18/06 SAT: LAPTOP BATTLE CHICAGO: Chicago, ILL at SMARTBAR - 3730 N. Clark St., Chicago IL 60613). More details tba.

>3/11/06 SAT: SXSW (!) LAPTOP BATTLE: Austin, TX at AMODA (Austin Museum Of Digital Art - 6905 Miranda Drive, Austin TX 78752). More details tba.

DEC 2005

2005 LAPTOP BATTLE CHAMPIONSHIP, DECEMBER 9TH AT CHOP SUEY!!

Winner of the 2005 Laptop Battle Championship: Starkey (from Philly)!!

Starkey took home:
- A pair of HR624 Studio Monitors from Mackie
- A copy of Tracktion from Mackie
- An upgrade for Ableton Live
- Native Instruments Kontakt 2
- A Rane MP4
- Utonic from Sonic Charge
- Volcano from FabFilter
- Apparel from Soy Clothing, Laptopbattle.org, Mackie, & Rane

Shout outs to everyone involved: Kris Moon, Zapan, Dave Hill, Bela @ NI, Tim Reha, Mani @ RBMA, Steven Severin, Scott Tracer, Douglas Bruey, Chanda & John @ Mackie, Killing Frenzy, MC Ali, Adam Swan, Greg Jaspen, Dave Segal, Dave Richards, Dj Introcut, Jim @ Soy, Magnus @ Sonic Charge, Poster Midget, Rosie, Bird, Krystal Wolf, Melissa Gonzales, Jerry Abstract, 31Avas, Rian Pierson, Sean Horton, Robert Robot, Matt Carthum, Zion's Gate, Dj Dan, Stephen Benbrook, Steven Severin, Andrew Luck, Luara Moore, and of course this years battlers: Let's Go Outside, Danger Dave, Rrine, Knucklez, Humdinger, M.O. & Square Root of Evil.

Thanks to our sponsors :
Ableton
Mackie
Rane
Brushed Golden
FabFilter
Fourthcity
Poster Midget
Mackie
Native Instruments
Sonic Charge
Soy Clothing


NOV 2005

>11/19/05 LAPTOP BATTLE at CLUBPROGRAMM in Munich, Germany... Details HERE .

OCT 2005

>10/24/05 LAPTOP BATTLE at LENNY'S in Atlanta GA... Details HERE.

10/19/05 LAPTOP BATTLE at SONAR in Vancouver BC!!!!!!!!!!!! <---------

SEPT 2005

>9/3/05 GALACTIC ASS DRAGON CLASSIC SPEEDCORE LAPTOP BATTLE at Z LOUNGE in Pittsburgh PA... Get more info here.

JULY 2005

>7/29/05 SEATTLE LAPTOP BATTLE SHOWCASE, FASHION SHOW & WORLD FAMOUS DJS at The War Room. Presented by Fourthcity, Graylife & Goods

>7/08/05 SEATTLE LAPTOP BATTLE SHOWCASE TEST-RUN at Artworks. w/ Hair Style-off, Dope Fashion Show & more...

JUNE 2005

>6/11/05 SALT LAKE CITY LAPTOP BATTLE

APRIL 2005

>4/22/05 FRI: PORTLAND LAPTOP BATTLE, 2005: Portland, OR at HOLOCENE... starring contestants TEK, LET'S GO OUTSIDE, ACARTIA, RRINE, RISTICON, SENOR FRIO, and judges FREAKY CHAKRA, AVAS (kpsu dj), & JERRY ABSTRACT. $7 advance tix avail. here.

>4/01/05 FRI: SEATTLE LAPTOP BATTLE, 2005: Seattle, WA at CHOP SUEY... starring Nth808, KJ Sawka, Butterfly Beats, XISIX, Danger Dave, Nordic Soul, KFO, Dr. Heavy, Tom Chi, Justin Byrnes, Turk, M.O., Syzygy, Kinoko, Ghost Bait + Red Jeff. $10, doors at 9pm. Werd.

FEBRUARY 2005

>2/12/05 SAT: MIDATLANTIC LAPTOP BATTLE: Washington, DC at DC NINE (1940 9th St. Washington DC 20001), 21+, 9pm Start. Sponsored by LAPTOPBATTLE.ORG, ABLETON + NATIVE INSTRUMENTS. Part of the flash bang project .

NOVEMBER 2004

>11/03/04 WED: LAPTOP BATTLE DIGITAL DJ DEMO & PRESENTATION AT U.W.: 4:00-6:00 at UW's Simpson Center (COM 206)

SEPT 2004

>9/24/04 FRIDAY: FOURTHCITY LAPTOP BATTLE CHAMPIONSHIPS at DECIBELFEST featuring SPARK (n5md -- vancouver bc), TWITTERING MACHINE (lowprolounge -- san francisco), DREAM ELECTRIC (los angeles), DECEPTIKON (merck -- portland), & TOM CHI (seattle)... the culmination of our efforts. we're pushing laptop performance to new levels, in case you didn't notice... check fourthcity.net for details.

>9/04/04 SATURDAY: FOURTHCITY LAPTOP BATTLE SHOWCASE at BUMBERSHOOT BUMBERSHOOT!! KRIS MOON, NORDIC SOUL, DECEPTIKON, ABSOLUTE MADMAN, SPARK, DJN & ZAPAN. check the steez.

AUG 2004

>RELATED EVENT: 8/22 Sun: **CAPTAIN AHAB / ATOLE WEST-COAST TOUR** at the Brickyard (VANCOUVER, BC). w/ zapan, spark, square root of evil, brokensleep & vincentparker.

>RELATED EVENT: 8/21 Sat: **CAPTAIN AHAB / ATOLE WEST-COAST TOUR** at the Baltic Room (SEATTLE). w/ zapan, djn, bob 2.2 & the fourthcity djs. $5.99.

>RELATED EVENT: 8/13 Fri: ~FOURTHCITY 014 RELEASE PARTY~ San Francisco @ CLUB MIGHTY 119 UTAH ST. music by BUMBLEBEE, HIDEKI, KAMUI, FOSCIL, ZAPAN, DJN, ABSOLUTE MADMAN, TWITTERING MACHINE & J.TONAL. $5, 21+, 9PM.

>RELATED EVENT: 8/09 Mon: IN-STORE APPEARANCE at OZONE RECORDS, Portland, OR. ZAPAN, MADMAN & DJN live.

>RELATED EVENT: 8/07 Sat: FOURTHCITY COMPILATION RECORD RELEASE PARTY at M:PULSE - 3516 FREMONT PL. (seattle)... music by KRIS MOON, DJN, ABSOLUTE MADMAN, FOSCIL, ZAPAN, VARIFORM, BUMBLEBEE, HIDEKI, INTROCUT, KAMUI & YITEARP...

>RELATED EVENT: 8/02 Mon: ~LAST FOURTHCITY WEEKLY~ w/ PLAN B, FOSCIL, ZAPAN, DJN, ABSOLUTE MADMAN, YITEARP & THE FOURTHCITY DJS at the Deep Down Lounge, 126 S. Jackson, Seattle, WA (, 21+, 9pm start)

JUNE 2004

>6/18/04 FRIDAY: LAPTOP BATTLE [v3.0 / seattle finals!!!] (mini-site up!) at CHOP SUEY (1325 east Madison) Seattle, WA - $6 adv. tix available - CLICK HERE!! (or it's $10 @ the door).

MAY 2004

>5/13/04 Thurs: PDX vs SEA rematch!: Portland, OR at Holocene (1001 se morrison) Portland, OR- $7, 9pm-2am

>5/13/04 Thurs: Philadelphia Laptop Battle at Silk City (5th & Spring/Garden) Philadelphia, PA

APRIL 2004

>4/15/04 Thurs: Laptopbattle West Coast: Vancouver,BC at The Brickyard (315 Carall St.), Vancouver BC, 19+, $5, 9pm-1am

>4/18/04 Sun: Laptopbattle West Coast: SF at Club Six (60 - 6th St. between Market and Mission Streets) 9 pm, only $5, San Fransisco CA

>4/21/04 Wed: Laptopbattle West Coast: LA at The Knitting Factory (7021 Hollywood Blvd) 9pm, $8, Los Angeles CA

MARCH 2004

>RELATED EVENT:3/19 Fri: ~M3RCK records presents~ Deceptikon tour w/ Zapan !!!TOUR KICK-OFF!!! at Seattle, WA Capitol Hill Arts Center - Lower Level, 10pm, 21+, $5

>RELATED EVENT:3/20 Sat: ~M3RCK records presents~ Deceptikon tour w/ Zapan at Eugene, OR With Zapan, Botox Samurai Duck (980 Oak St), 10pm, 21+

>RELATED EVENT:3/21 Sun: ~M3RCK records presents~ Deceptikon tour w/ Zapan at San Francisco, CA With Zapan, Cats on Earth House Party show: 669a Minna St. (an alley between mission, howard, 7th & 8th), 8pm - 2am, $5

>RELATED EVENT:3/23 Tue: ~M3RCK records presents~ Deceptikon tour w/ Zapan at Los Angeles, CA With Captain Ahab, Books on Tape, Zapan @ Zen Sushi

>RELATED EVENT:3/24 Wed: ~M3RCK records presents~ Deceptikon tour w/ Zapan at Los Angeles, CA ELM Weekly @ Good Hurt Club, 10pm-2am, 21+ $3

>RELATED EVENT:3/26 Fri: ~M3RCK records presents~ Deceptikon tour w/ Zapan at San Diego, CA With Twine, dj Andres Octavio, dj Jon Baker Brokenbeat night @ Club Kadan, Free, 21+, 9pm-2am

FEBRUARY 2004

>RELATED EVENT:2/11 Wed: ~Bllix/Holocene/EM411 presents~ Battle of the Knobs at Holocene.org, Portland OR

JANUARY 2004

>1/23/04: Laptopbattle 3 (mini-site complete!) at Chop Suey, Seattle WA FRIDAY: 9 PM SHARP! : $10 Jaunary 23rd 2004: Portland vs. Seattle Laptop Music Battle @ chop suey 1325 east madison, seattle WA. CHECK THE VIDEO WE MADE FROM FOOTAGE TAKEN AT THIS EVENT !

DECEMBER 2003

>12/17/03: Laptopbattle 2 Portland All-Area at Holocene, Portland OR

SEPTEMBER 2003

>9/16/03: Laptopbattle 1 (mini-site complete!) at Chop Suey, Seattle WA

APRIL 2003

>4/7/03: Laptopbattle 0 (mini-site complete!) at Fourthcity Weekly (Deep Down Lounge), Seattle WA -- LaptopBattles LaptopBattles LaptopBattles!!

†
ALSO: CHECK THE DETAILED *FOURTHCITY* UPCOMING SHOW LIST HERE !