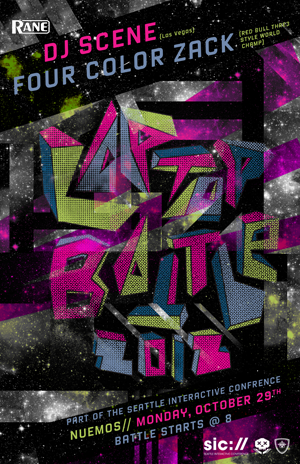 Future/past Laptop Battles

SEATTLE'S 8TH ANNUAL WORLD FAMOUS LAPTOP BATTLE AT CHOP SUEY SATURDAY DECEMBER 11TH

LB has spread across the globe! LB has spread across the globe! Please check your local Laptop Battle chapter for local event info.

LAPTOP BATTLE is a trademark of Fourthcity and is used under license by our worldwide affiliates. Accept no imitations!

Current and previous sponsors include Intel, Mackie, Native Instruments, Ableton, Vice Magazine, XLR8R, Frank151, and more.



"LAPTOP BATTLE IS COMING UP IN THE MANNER OF THE DMC DJ CHAMPIONSHIPS" - Portland Mercury

"FOR A NEWER BREED OF MUSICIAN, LIGHTWEIGHT COMPUTERS ARE HEAVYWEIGHT MUSICAL INSTRUMENTS" - Seattle P-I

"THIS IS YOUR CHALLENGE. ACCEPT IF YOU DARE.." - Keyboard Magazine

NEW: LaptopBattle.org is looking for an intern!